Monday 14th September 2015……
1 month since the last update, so firstly apologies for the radio silence!
Over the past month dad has gone through his 3rd dose of chemo, a few rubbish days followed, but he came out of that smiling as always and now we just play the waiting game for results of that.
Also on 23rd August the 10k team completed their challenge of the Forfar 10k run, the fundraising it sitting at around £7,000 – this is quite magnificent and each one of us really is humbled and appreciate every gesture.
A few pictures from the day…..
Friday 14th August 2015……
Another couple of weeks have passed since the last update.
Dad had a few rubbish days with suspected infection and high temperatures.  A few different drugs and anti-biotics then followed, and eventually an infection was suspected in the hickman line.  This was treated directly, in the hope of clearing it up but to no avail and as such the line had to be removed at the start of this week.
Things are a bit better now and the temperatures seem to have stabilised in the main and dad certainly feels more like himself.
The next part of the process is just a waiting game – we now wait on his blood results coming up and the docs will monitor things from there.
Again he passes on his thanks to everyone for the messages and support.
Just over 1 week to go until the 10k challenge – so anyone that can donate please do, every penny is appreciated and we thank you all for your help.
Sunday 2nd August 2015……
A couple of weeks since the last update, apologies for that!
Dad has been back in hospital since the last report and has gone through his 2nd course of chemotherapy.  He had a couple of bad days with suspected infection but came through that test.
With chemo finished for now, its just a waiting game on the results which could be 3-4 weeks.
Still lots of visitors which is great, just a reminder anyone wishing to visit a wee text in advance is always useful just to check everything is in order.
Sunday 19th July 2015……
Another week at home with a couple of hospital visits for blood checks and chats with the medical people.
Back into hospital tomorrow for the next batch of Chemotherapy – change in the chemo treatment so may be a bit harder on dad.  However, needs must and he is staying positive and looking forward.
A nice Sunday in the garden with another visit from the little princess, and some more good photos as she continues to grow!
Sunday 12th July 2015……
Not a lot to report this week, another week at home and generally feeling pretty good if not a little tired.  Afternoon naps are a must, but lots of walks and chill out watching Wimbledon tennis!
Still a steady stream of visitors which is always much appreciated. Was back to hospital a couple of times this week for bloods, not much change so just a waiting game to see what consultants want to do.
Sunday 5th July 2015……
Well usually a Friday update, but I thought today deserved an extra update.
Dad got home on Friday afternoon as promised by the doctor and a booklet of instructions was provided. A generally lazy weekend was to follow – though this did include a walk down the prom with mum, a couple of visits from Blair and Laura, plus a couple of visits from Greig, Charlene and Katie.  In addition on Sunday Greig delivered the news that he had proposed to Charlene earlier in the day.
Dad also got to see Grandaughter Katie for the first time since his admission to hospital – plenty smiles and pouted bottom lip episodes followed from little Miss Hopcroft……..
Friday 3rd July 2015……
Another good week for dad, tonsillitis seems to have cleared up – managed a couple of trips outside in the fresh air and sunshine – though factor 50 is a must.
Then on Friday a visit from the doctor revealed a surprise question…… "how would you feel about going home?", after the shock calmed a bit the answer was quite obviously "yes".  He was then told he could go today once his medication had been prepared.
Mum has been stocking up with supplies as the hospital regime has to be maintained and 3 meals per day eaten in order to stay strong.
Incredibly we are now over £2000 raised for the 10k challenge – we are all so grateful and hope everyone continues to help us with this fantastic cause.  Cousins Paul and Amanda Thomson have now joined the team in addition to Julie and Stephen Dickson joining last week – very good of them to all join in.
Friday 26th June 2015……
This week has been really good, that is up until Thursday when a touch of tonsillitis was diagnosed having woken up in the morning with a really sore throat. This coming just a day after Dad was taken off all UV anti-biotics and was just receiving tablets. Doctors just been round and going to start UV anti-biotics again to help with temperature and the tonsillitis.
Once again had some really nice visits from people this week, which is always good and keeps spirits high. There have been days with no visitors which is also good as allows for some rest and sleep catchup!
The wounds from last weeks line have now healed up really well and the stitches have been removed. A touch of glue was required to help the top wound as it was continuing to weep quite a bit. Dad has been up and about a lot more this week.
As you will have seen we have started a fundraising drive to raise some funds for ward 34, within 4 days of launch we are now at £1000!! Dad is so chuffed with this and we hope we can continue to raise lots more to help purchase much needed items for the ward. As well as the donations, the messages of support really are appreciated with dad reading each and every one of them. The challenge is the Forfar 10k with Greig, Charlene, Blair and Laura taking part, in addition cousins Julie, Stephen, Paul and Amanda are now also going to take part to boost our drive which is a fantastic gesture!
On behalf of us all once again thanks and lets keep going!
---

Friday 19th June 2015……
This week has been a bit of an up and down week – Monday saw dad down in theatre in the morning to get his Hickman line fitted.
A Hickman line is a central venous catheter most often used for the administration of chemotherapy or other medications, as well as for the withdrawal of blood for analysis.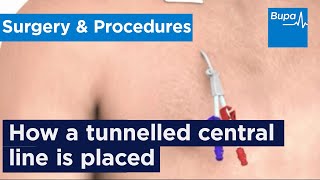 All in all this is a relatively simple procedure and everything went as they would hop with getting the line fitted. However, upon arrival back up in the ward his temperature was high and this resulted in further tests. The next couple of days/nights weren't the best with his temperature up and down alot. Mum and Blair stayed overnight in the hospital on Tuesday to keep an eye on things. Lots of units of blood and platelets as the platelet count is low, which is not helping with the wound healing itself.
Thursday saw dad a little more like himself – after brushing his hair and some coming off in his hairbrush he decided it was time to shave his head. Mum was given the task and the result was…
We also decided that if anyone wishes to visit we would ask them to text mum or dad in advance to make sure he is feeling up to visitors. We would also ask that you keep your visit to around 20 mins or so if possible. He has been getting lots of visitors which is great but it does make him very tired and interrupts his sleep chances during the day
---

Friday 12th June 2015……
This week started with dad getting to see Granddaughter Katie – not as close as he would have liked mind you but a visit to the hospital meant dad could see her from his window. Certainly put a smile on his face, despite having his shower interrupted to see her.
Well that is the 1st block of Chemotherapy over and done with already and so far dad has reacted pretty well to the treatment.
Mum and dad managed to get out for a wander round the hospital grounds this week, some fresh air did the world of good. Although the factor 50 suntan lotion didn't go down too well
Temperature seems to be settling down a bit more and they have changed from intravenous drips to tablet form.
Still getting lots of visitors which is great and always good to see people.
Mum decided to give up work this week, a sensible decision which means she can visit hospital everyday without the need to worry about going into work etc.
---

Friday 5th June 2015……
The first block of chemotherapy has begun and dad has all in all reacted pretty well so far. The first course consists of around 10 days of treatment through his cannula drip. This involved 2 "clear bags" every day morning and night, and in addition some "red" liquids on day 1, 3, 5, 7. The side effects can be quite extreme and they were all explained in detail.
Dad seems to be enjoying the food and the nursing staff are looking after mum and dad really well, always trying to feed mum as well
Still lots of visitors which is great, though contact with the patient has to be avoided. This is to avoid infection as well as dad passing on poisonous chemotherapy medicines to the other person!
---

Friday 29th May 2015……
I decided to setup this page to allow our dad's journey to be shared as he wants it and in addition we want to raise some much needed funds for the fantastic ward 34 at the Victoria Hospital in Kirkcaldy.
The story begins on Sunday 24th May 2015, we all had a fantastic family meal at mum and dads, as always dad was roaming with camera in hand pointing it at grandaughter Katie at every opportunity.
Monday 25th May 2015 was just the same as any other day, dad got up for work as normal. He was feeling a bit "yuck" and mum told him to get on the phone to the doctors for an appointment to see what is going on.
12 noon appointment and the doctor decided to take some bloods and told him to come back in 2 weeks – perfect, back to work he went.
Just after 5pm dad decided he had had enough for the day and it was time to get home, have a quick shower and go to bed to sleep off the tiredness. However, on the way home a call came through on his mobile to say blood results had come back with some abnormalities and he should report to ward 34 at the Victoria Hospital, oh and bring an overnight bag as he would be staying in.
On the Tuesday morning tests continued but then the doctor came into the room to confirm the news that had been feared, it was Leukemia. Both of us went in to be with dad and mum, and a further visit from the consultant later in the afternoon was very useful. Everything was explained in detail, the treatment paths were discussed and the plan was made clear.
Chemotherapy was to start on Friday and a long hard 6 months lay ahead.
Many thanks for reading and I hope you support our fundraising event.
Greig Hopcroft